The "Triple Check" function allows you to make a more precise monitoring program for a continuous period: 3 measurements in the morning, 3 measurements in the evening, during 3 successive days, for a total of 18 measurements (corresponds to the ESH recommendations).
Please note that if a measurement is missed, the Triple Check program is cancelled.
You can perform single measurements independently of the triple check program, but these will not be counted in your "AVG" final result.
Time ranges of measurements
Morning measurement: Between 5:00 and 9:59
Evening Measurements: Between 19:00 and 23:59
Perform a triple check
Make sure your BP7 monitor is sufficiently charged.
Access the Blood Pressure menu as for a single measurement, and select the "Triple-Check" tab.
Select Start. The 3 measurements will be done automatically and successively. Keep the position between each measurement.

Results
The results are displayed in your list of blood pressure measurements, and can be identified by the numbers 1, 2 and 3 in the list of results: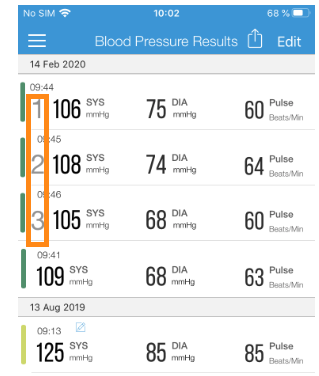 The average "AVG" of the 18 measurements appears in the result list at the end of the Triple Measurement program: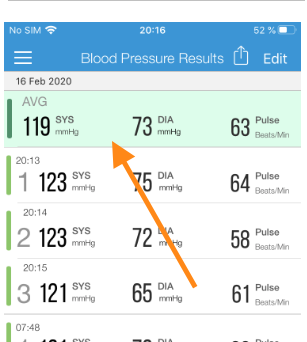 Reminders
You can activate reminders for your Triple Check program by going to MENU > Blood Pressure > Triple Check tab > Select the

icon. Then set the reminder times to receive a notification on your phone, so you don't forget any steps in your Triple Check program.